Regular price
$4,400.00 USD
Regular price
Sale price
$4,400.00 USD
Unit price
per
Sale
Sold out
Currently one week for production.
USA DOMESTIC SHIPPING: 3-5 days
INTERNATIONAL SHIPPING: 5-7 days
Engineered to be more than double the performance at half the cost of other turnkey motion systems, with modern controllers and low total loop latency.

The DK2 motion system is a professional motion system for serious sim-racing enthusiasts, drivers and researchers. The system shares the same design and construction as our industrial-grade motion systems used in our full motion vehicle simulators. Additionally, DK2 is mechanically and electrically engineered around our unique motion algorithm to provide the most realistic and representative vehicle motion feedback.

DK2 takes a modern approach to our signal processing and motion control to create the most responsive system on the market. Every elevation change, vehicle movement, surface change and gear shift, is captured and reproduced within 2" (50mm) of the available mechanical stroke.

If you do not have an available network port on your computer. Please feel free to use a USB to Network adapter such as this model available on Amazon.
For more information, please read our frequently asked questions here: FAQ
All motion systems are built to order and ship once rigorously tested. All systems include a 3-year warranty from date of purchase.
Share
View full details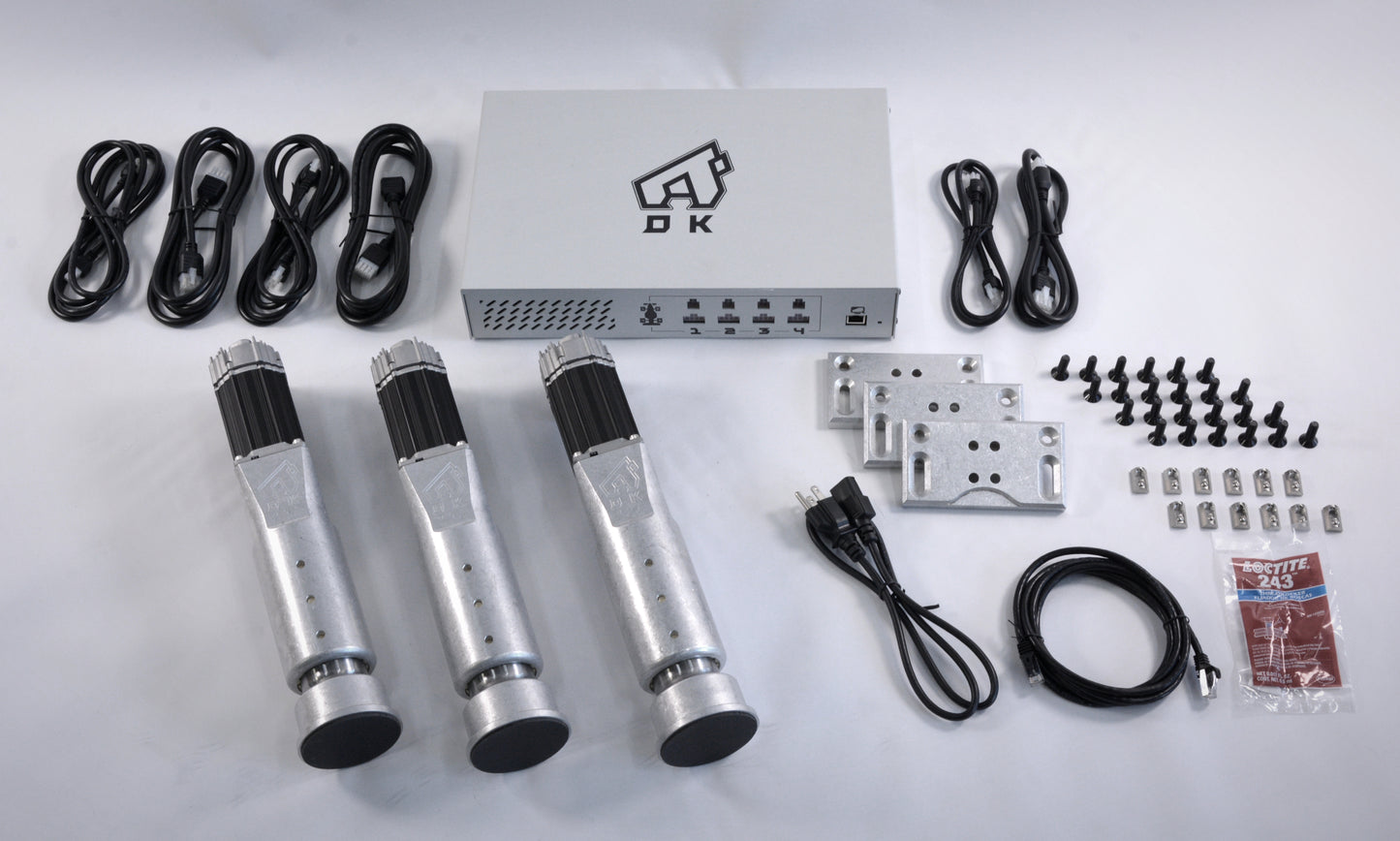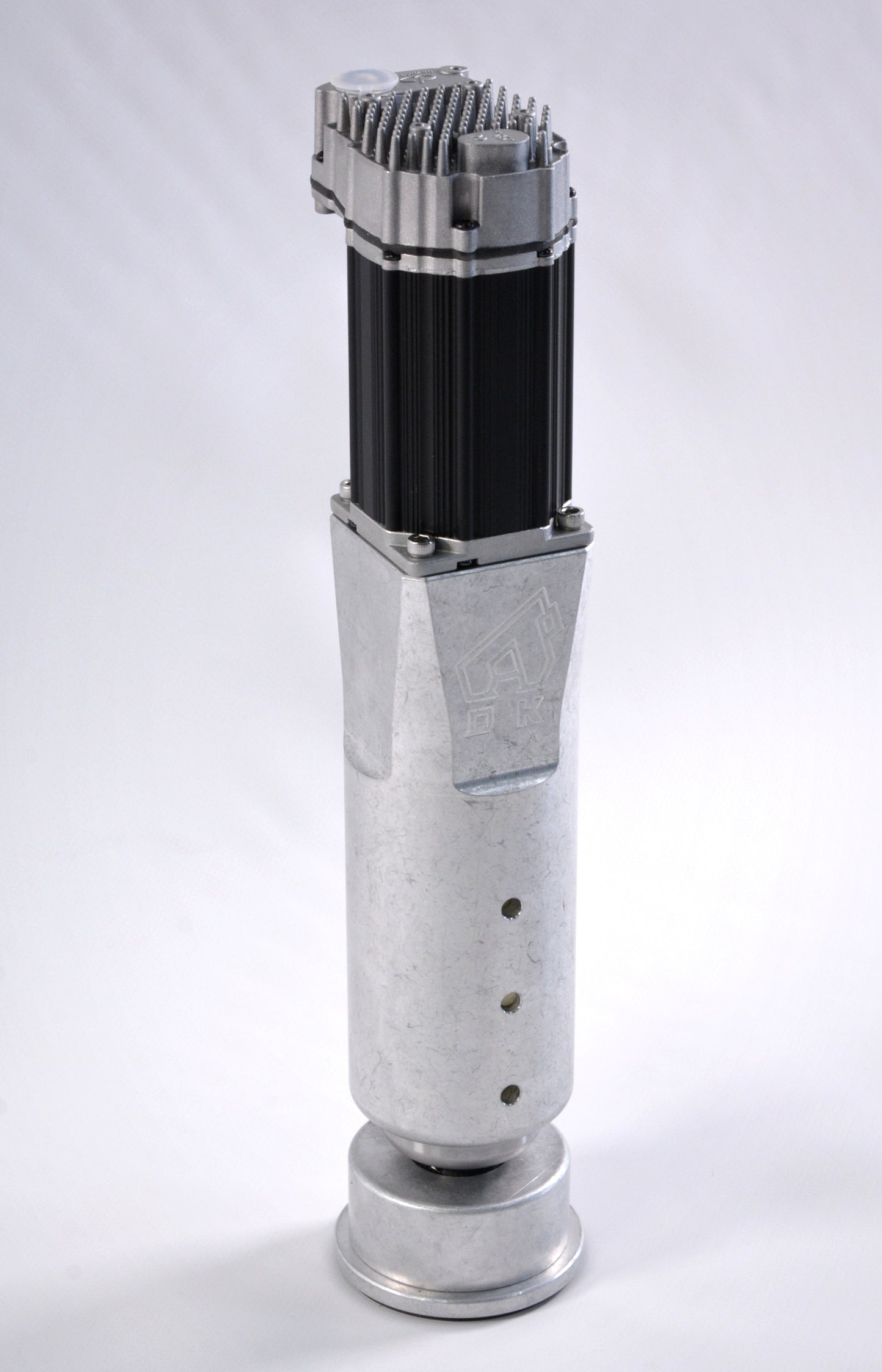 Technical Information
Contents

mono-block, machined billet actuators with 

2" (50 mm) travel

powerful, responsive and compact American Teknic servo motors
maximum weight capacity (chassis and driver):

3-actuator system =

375 lb (170 kg)

4-actuator system =

500 lb (227 kg)

billet-machined floating feet with large rubber pads
aluminum t-slot mounting hardware compatible with 25 to 45 series profiles
single controller box (115v/240V compatible) with power and network cables
two sets of 1m and 2m data and power cables from the controller to actuators
Sigma's motion algorithms & simulation software
automatic Over-the-Air controller firmware updates
Actuators

100% designed, manufactured, assembled and tested in California, USA
Premium THK ball screw for smooth performance and durability
Machined billet aluminum body to ensure concentricity and accuracy
2″ (50mm) in piston diameter for large side-loading capability
T-slot aluminum extrusion friendly
10 lbs. each (4.5 kg) with the DK2 motor
Environmentally friendly tumbled finish
Latency

PC side (Windows 10/11)

Game physics engine @ 333 Hz: 3 ms
Windows OS response: 1 ms average
Sigma 10-layers algorithm: 1 ms
Send target positions via Ethernet: 0.3 ms

Controller side (Real-time OS in ARM)

Response to new position targets: < 1 microseconds
Motion Algorithm for smooth motion: Average: 25 ms, Range: 0 to 50 ms
Send motion data to 1st micro-controller at 1000 Hz: 1 ms

Controller side (2 low-latency micro-controllers)

Send motion data from 1st micro-controller to 2nd: 0.1 ms
Digital pulse generation: 0.002 ms

Electrical connection from 2nd micro-controller to ClearPath motor

3V to 5V conversion: 2 ms

ClearPath servo motor

Digital pulse signal to actual motion: 1 ms
Technical

ClearPath Integrated Servo Motor

 

CPM-SDSK-2331S-RLN

Rated (RMS) Torque = 124 oz-in (0.9 N-m)
Peak Torque = 620 oz-in (4.4 N-m)
Max Speed = 2,520 rpm
Total Weight Capacity (for optimal performance), including fully-loaded simulator with driver:

3-actuator system = 375 lb (170 kg)
4-actuator system = 500 lb (227 kg)

Optically isolated, current-based I/O system (EMI free)
Total system draw at 110V is about 290 W/h

In-house manufactured actuators | 3D Model:

 

Available Upon Request 

2" (50mm) actuator travel
speeds of 8.4"/s @ 2,520 rpm
5/8" diameter, USA ball screw and nut
2" (50mm) diameter piston
Mono-block machined billet aluminum body
All American made components

Motion Controller | 3D Model:

 

Available Upon Request

ClearPath IPC-5 Intelligent Power Supply
Input voltage 95-125/190-250 VAC; 50-60Hz
Operates at 600Watt max, which is roughly 5.5A @ 110VAC, so about 2.6A at 230VAC
Real-time and remote motion control via default browser or phone/tablet
Signal processor with amplifier
Embedded microcontrollers
Shielded Molex connectors
15" wide, 9.25" deep and 3" tall

Sigma's Software and Algorithms

Motion Integrity™ architecture to provide ultra-responsive, precise and accurate motion control
Dynamic scaling algorithm to best represent all layers in the available actuator travel
Organic and natural feeling Velocity Trap™ algorithm
Smooth integration of the 10 motion layers
Real-time remote control interface
Custom Motion Profiles

Mounting hardware

Machined billet mounting bracket
T-slot aluminum extrusion (80/20) friendly
Machined billet floating feet with mounting capability
Warranty & Shipping

See our Shipping Policy page for information on shipping, warranty and returns.

| | | | | | |
| --- | --- | --- | --- | --- | --- |
| | # of boxes | Total Weight | Length | Width | Height |
| DK2 | 1 | 62lbs/28kg | 56cm/22″ | 46cm/18″ | 31cm/12″ |